diner524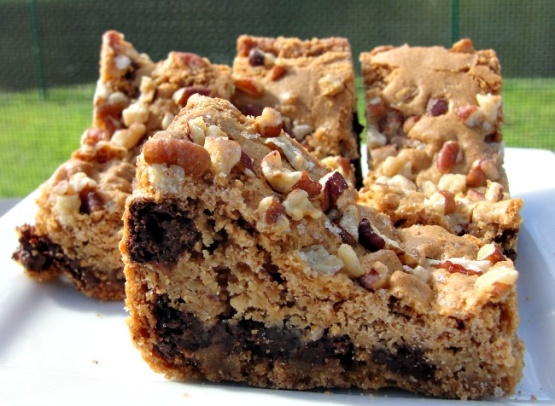 This recipe was served at the McLeod Family Reunion in Florida, circa 1997. They said they'd been making them for years and no one knew where the recipe originally came from. Easy to do and just delicious!
Great tasting cookie bars!!! I made this as written, but only made 1/3 of the recipe and made 1/2 with pecans (as DH isn't a nut fan). I really liked using the self-rising flour, much quicker/easier. This has a very long bake time range and resulted in me checking the bars at the 20 min. time and then again in another five minutes etc. until it reached the 30 min. time, which is when it was done. Checking it as such an early time caused the bars to fall in the center and the texture was off due to it falling. I would suggest others check the bars at 27-28 minutes into the baking time. Thanks for sharing the recipe and congrats on your football pool win again!!!
Mix together melted margerine and brown sugar.
Add eggs, mix.
add vanilla and flour, mix.
Fold in chips and nuts.
Put in 13 x 9 inch greased pan.
Bake at 350 F for 20-30 minutes.
Cool completely.
Cut into bars about 1 inch each.