Family Fun's Red, White & Blueberry Fruit Salad
COOKGIRl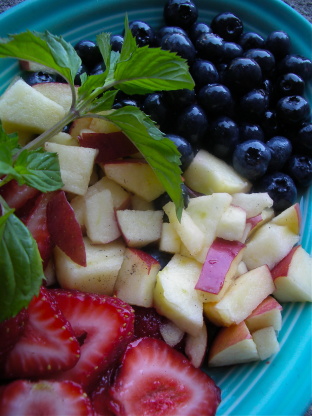 From Disney's familyfun.com. Except for the lime juice and cardamom, all ingredients used to make this fruit salad were local! Adding another blueberry recipe to my arsenal! For intense lime flavor, try key limes for extra tangy zip!

Great recipe. I didn't have cardamon but used a pinch of allspice instead, not too sweet just right!
Dressing

59.14

ml fresh lime juice

59.14

ml honey (soften honey first to make it easier to whisk) or 59.14 ml agave nectar (soften honey first to make it easier to whisk)

0.25

ml ground cardamom (optional-my addition)

29.58

ml chopped of fresh mint

Salad

709.77

ml fresh blueberries, washed and drained

946.0

ml fresh strawberries, washed, hulled and halved

3

medium apples, washed, cored and cut into 3/4-inch-inch chunks (*I used 'Criterion' apples-your choice to peel)

Garnish
In a large bowl, whisk together the dressing ingredients.
Add the salad ingredients and *to avoid the apples turning brown, toss [immediately] to combine.
Let the fruit salad set for 15-30 minutes to allow the flavors to blend.
Garnish salad with fresh mint leaves just before serving.
Servings are estimated.