Family Favorite Vegetable Lasagna
Boomette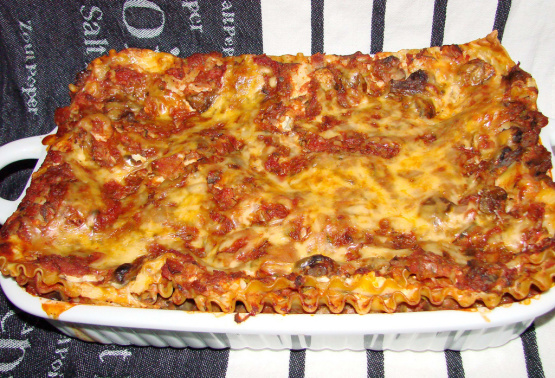 Another recipe from Anne Lindsay's Lighthearted Everyday Cooking. You can use this recipe to sneak vegetables into the diet of the veggie-phobic :). Make this recipe healthier by using low-fat cottage cheese and low-fat mozzarella.

I make a lot of vegetable lasagnas and really loved this one! I used some Penzey's dried rosemary to go with basil. oregano, and a dash of red pepper flakes. I used the no-boil noodles and they worked out great. I covered with foil and let sit about 15 min. for the juices to absorb into the noodles. I even used fat free cottage cheese for the firs time and thought it was an acceptable sub. My husband dislikes mushrooms but he said this lasagna was good (and didn't realize they were in there). Thanks so much Dreamer. I will be making this often. Roxygirl
Preheat oven to 350°F.
In a large nonstick pan, heat vegetable oil over medium heat.
Add zucchini, mushrooms, onions and garlic, and cook until tender.
Add tomatoes, water, tomato paste and Italian seasoning.
Bring to a boil, reduce heat to medium-low and simmer uncovered for 20 minutes until mixture has spaghetti sauce consistency, stirring occasionally.
Season with pepper to taste and add sugar if too acidic.
In large pot of boiling water, cook lasagna noodles as directed on package (usually 10 to 12 minutes) until tender but firm.
Drain and rinse under cold water the drain again.
Combine cottage cheese, mozzarella, egg and half of Parmesan.
Cover bottom of 13 x 9 inch baking dish with a bit of the tomato sauce.
Place 1 layer of cooked noodles in dish.
Cover with half of cheese mixture.
Repeat with remaining sauce, noodles and cheeses to make 3 layers of each ending with a final layer of tomato sauce.
Sprinkle with remaining Parmesan cheese.
Bake for 45 minutes or until hot and bubbly.
Remove from oven and allow to stand for 5 to 10 minutes before serving.