Family Favorite Sesame Chicken
SharonChen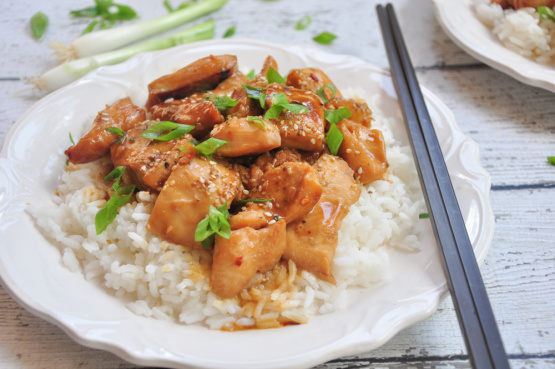 A few months ago I made this great sesame chicken that my mother and I loved.... problem was it was one of those dinners where I added a little of this... a little of that.... and could not for the life of me remember what on earth I put in it!! So after months of tinkering in the kitchen I FINALLY came up with the recipe last night, and wrote down all the ingredients!! Enjoy!

Top Review by Ck2plz
Restaurant Quality. I doubled the sauce and recommend doing this. I used 1 1/2 teaspoons of ginger instead of the 2 teaspoons indicated after double the ingredients. I will add 2 teaspoons next time. I used 2 tablespoons of sesame oil and increased the garlic. If you do not marinate your chicken you will lose some of the flavor but it will still be a good dish. My DH said to make this again so that means MAKE IT:)
Combine chicken ingredients except cornstarch and let marinate for at least 30 minutes in the fridge.
Remove chicken from marinade and toss in cornstarch then cook chicken in hot oil on the stove top until cooked thru. Remove from pan and keep warm in oven while making the sauce.
Combine all sauce ingredients EXCEPT cornstarch in a sauce pan and bring to a boil over med. heat.
Mix cornstarch with a little water (about 1/4 cup) in a cup until disolved then slowly add to the sauce mixture on the stove and heat until thickened to you liking.
Add chicken to sauce on the stove until heated thru.
Remove and sprinkle with sesame seeds and green onions and finally enjoy!