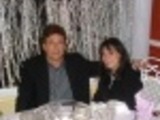 The name says it all...this has always been my family's favorite, even though there are a lot of shortcuts. It is simple to make, tasty and fast. What else can you ask for? To serve, I ladle it into a large bowl and garnish it with lots of shredded cheddar cheese and jalapenos. I insert tortilla chips all around the edge of the bowl for either scooping up some of the chili with (nacho-style) or eating along with the chili itself.
Directions
In Dutch oven over medium heat, brown ground beef, breaking it up as it cooks. Drain off fat.
Stir in chili seasoning mix, water, tomatoes, and kidney beans.
Bring to a boil, stirring frequently.
Reduce heat, cover and simmer for 20 minutes, stirring occasionally.
When serving, garnish with shredded cheese and jalapeno slices. Serve with tortilla chips.
Most Helpful
Nice simple chili. This was easy to put together and tasted great while watching football. Thanks Jackie for a nice keeper. Made for What's on the Menu Tag.

I made the following changes to the recipe: used pinto beans instead of kidneys, used tomatoes with green chiles instead of jalapenos, and 1 pkg. of regular chili seasoning mix and 1/2 a pkg. of hot chili mix......it was plenty hot enough for us. I also used only1 lb. of ground beef and added 1 carrot chopped in small pieces, 1 medium onion chopped and 1 zucchini chopped into a small dice and sautéed them before adding them to the chili. It made a fabulous, thick chili that's great on a fall or winter day. Made for Football Pool 2013.
I only made half a recipe to try it out before taking it to a large party. It was the first one I tried and it's a keeper. It was pretty hot. I'll have to tone it down quite a bit when I make the large batch, since there will be kids and elderly ones at party. I tried a bowl of it with and without cheese, both ways were good. I like rice with chili and cheese on top and I think this is will be great for that too. Thanks for a quick, easy, very versatile chili.