Family Favorite Apple Pancake
Barb G.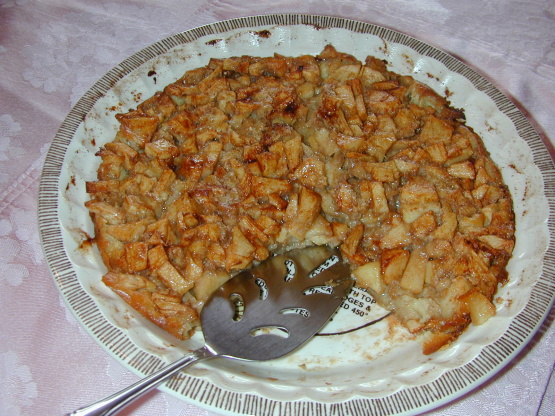 Like apple pie for breakfast, only much easier.

This is great, my daughter who is 4 wanted THIRDS. Do yourself a favor and triple this recipe, its so good!!! A keeper in our house for sure! I used a tad less than 1/2 c of brown sugar and it was because mine was getting hard. I think it is PERFECT that way. Not too sweet! Oh and if you are a bread pudding lover, you will love this too! Not so much a "pancake" taste but more of a custard type taste. THANKS SO MUCH!!!
Melt 2 tablespoons butter in a 9" pie plate in preheated 400° oven.
Swirl butter to evenly coat bottom of pie plate and set aside.
In another bowl, combine apples, brown sugar, cinnamon and 2 tablespoons melted butter.
In a separate bowl, mix together flour, milk, eggs and salt and pour into pie plate.
Spread apple mixture over batter and bake at 400° for 25 minutes.