Prep 15 mins
Cook 12 mins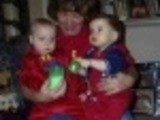 I have been making this recipe since my kids were little. It uses canned pumpkin to make round brownish/orangish cookies which can be iced with a thin butter icing with an orange color. They look very much like little pumpkins and are great for a halloween party or a treat for Thanksgiving.
Directions
Mix sugar, shortening, eggs and pumpkin thoroughly.
Blend dry ingredients; add to pumpkin mixture stirring until well blended.
Add raisins and pecans.
Drop batter by teaspoonfuls on ungreased baking sheet.
Bake at 400 degrees (moderately hot) 12-15 minutes or until lightly browned.
ICING.
Blend butter and sugar together.
Stir in cream and vanilla until smooth; add a few drops of food coloring, stirring until desired color is reached.
Ice tops and sides of cooled cookies.
Reviews
Most Helpful
These cookies were very easy to make and would be great for children to do. They do look like "little pumpkins" as Trisha mentions as they do not flatten out much but hold the shape that you put on the cookie sheet. I found them to be a little bland but I did not ice them as I was taking them to a moving party and I did not want them to stick together. I think that I will try them again with the icing :-)

I took these cookies to a gathering of young and old. Comments were: "boy these are good", and "just like I remember from the old days when people really baked", and "may I have the recipe?". My comments are: "delicious!" and "thank you, Trisha, I'm glad I made them!". Lynnie