Delish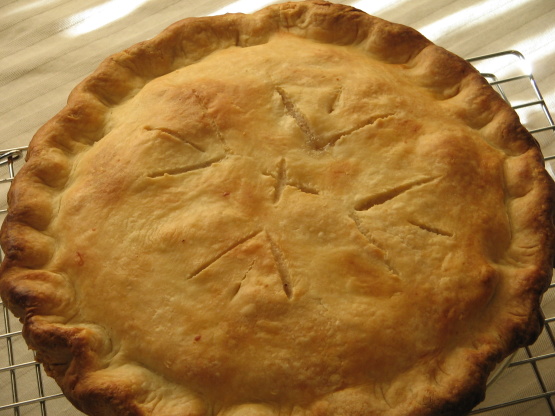 I came across this recipe (can't remember where) and scribbled it on a piece of paper because my husband's favorite fruit is pears. I finally made it for the first time a month ago and he commented that "This is the best pie I have ever tasted!" This time, he even went and bought the pears himself and asked me to make it for him, which means he REALLY likes it. It is great to make in the fall when pears are a plenty. It's a nice change of pace from apple pie. Top it with vanilla ice cream or sweetened whipped cream and devour! I like to use Classic Pie crust, Classic Pie Crust, Idiot Proof Step-By-Step Photo Tutorial. It is by far, the BEST pie crust ever. By the way, depending on the size of your pears, you may need more than six. It's best to make sure you have enough filling because the pears cook down and the pie shrinks.

Very good! I've never had pear pie before and I was pleasantly surprised. Both my husband and I liked it better than apple pie. I make it as written, but withouth the lemon peel because I didn't have any. I was afraid it might be too sweet but it was perfect. I used the Mean Chef's Classic Pie crust that was suggested for the crust and I didn't care for it though - not as flaky as I'm used to, but maybe I messed it up. I will definately be making this pear filling again though.
In a small bowl, combine sugar, tapioca, nutmeg, cinnamon, salt, and lemon peel; set aside.
In a large bowl, combine pears and lemon juice; toss to coat.
Sprinkle dry ingredients over pears and toss or stir gently to coat evenly.
Line pie plate with bottom crust.
Pour pear filling in crust.
Top evenly with cubed butter and top with top crust.
Seal pie, flute edges, and cut slits in top of crust to allow steam to escape.
Brush with milk and sprinkle sugar over top if desired.
Bake at 400 degrees Fahrenheit for 50 minutes or until crust is golden brown and filling is bubbly.
Cool on wire rack.