Fall Bratwurst With Apples and Onions
Bergy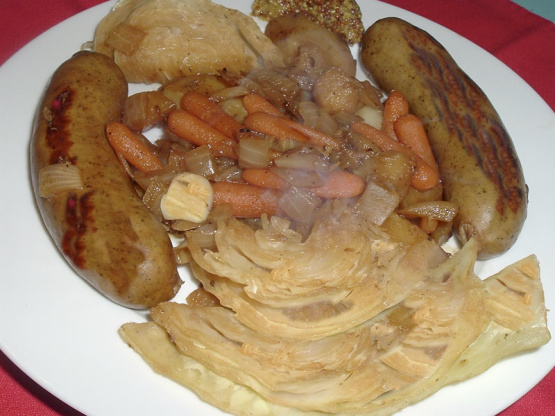 Even though the recipe says you can use non alcoholic beer I think that real beer has a better flavor. Remember when you cook that the heat dissipates the alcohol.
6

bratwursts

1

cup chopped onion

1

cup peeled chopped apple

1

cup baby carrots

1

small cabbage, sliced into wedges

1

tablespoon caraway seed

1

(12 ounce) bottle beer (non-alcoholic will work)
salt and pepper
Place the sausages in a large pan and add 2 cups water.
Simmer without piercing the sausage until the water is evaporated and the sausages are browned.
Add the onions and apples - cook till soft.
Add carrots, cabbage, caraway and the beer.
Season with the salt and pepper.
Cover and simmer for 1 hour or until the cabbage is tender.
Serve with rolls or bread.