Falafel With Tahini Sauce
zeldaz51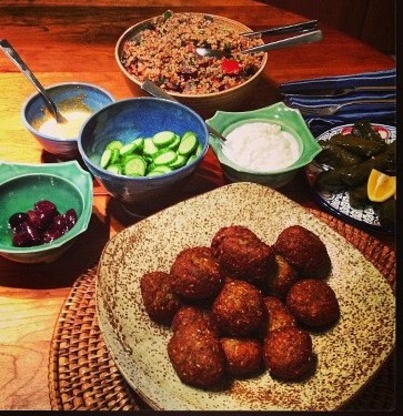 Adapted from The Splendid Table's online newsletter. Light and fluffy, my husband said if he could eat this at every meal he'd be happy as a vegetarian. I make the sauce first, then the falafel. Serve on a plate with the sauce as part of a Middle Eastern meal, or stuff into a pita with vegetables and dress with sauce. We like this with Bulgur Wheat Salad - Turkish Style.
Falafel

1

teaspoon cumin seed
1⁄2 teaspoon coriander seed
1⁄4 teaspoon fenugreek seeds (optional, but better with it)
1⁄4 teaspoon red chili pepper flakes

2

cups cooked chickpeas (I cook mine in the pressure cooker, but canned would be fine)
1⁄2 cup chopped white onion

3

medium garlic cloves

2

tablespoons white sesame seeds
1⁄4 cup matzo meal
1⁄4 cup chopped flat leaf parsley

1

teaspoon baking powder

1

egg

2

teaspoons salt (use less if the chickpeas are salted)

1

quart oil (for frying, we use a mix of canola and peanut oils)

Tahini Sauce

1⁄4 cup tahini (sesame seed paste)
1⁄2 teaspoon cumin seed, toasted and ground
1⁄4 teaspoon fennel seed, toasted and ground
1⁄2 teaspoon salt
juice of half a small lemon (prefrably Meyer)
1⁄4 teaspoon red chili powder (we prefer ancho) or 1⁄4 teaspoon cayenne (we prefer ancho)

2 -4

tablespoons water
Falafel: Grind the first four spices in a spice grinder or moprtar and pestle. Place the ground spices in the workbowl of a food processor along with the chickpeas, onion, and garlic. Pulse several times to mince the contents.
Add the sesame seeds, matzo meal, parsley, and baking powder and pulse until evenly mixed, being careful not to puree the mixture.
Beat the egg in a large bowl, add the chickpea mixture, salt, and pepper and mix well. Chill at least 15 minutes.
Form 16 balls of the chilled chickpea mixture and place on a parchment-lined baking sheet, flattening each ball slightly.
Heat the oil to 360 degrees in a large heavy pot and fry the falafel until golden, turning at least once. This should take 2 or 3 minutes. Drain well before serving, hot, with the tahini sauce and lemon wedges.
Tahini Sauce ( makes about 1/2 cup):Combine all ingredients except water in the workbowl of a food processor and pulse until smooth. Add the water slowly with the motor running until it forms a creamy sauce.