Falafel from Moosewood Cookbook
Bellinda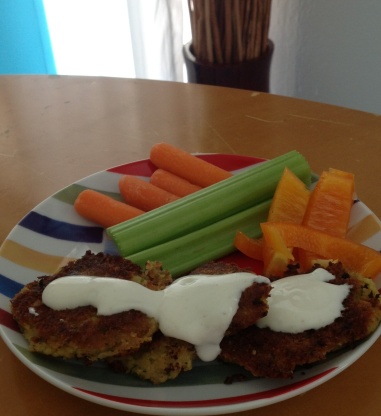 An exotic vegetarian delicacy... it's SO EASY and SO GOOD! Very flavorful and lots of spice. This only takes 5 minutes to put together and another few minutes of frying. Put them in a pita with shredded lettuce and Tzatziki sauce (Greek Tzatziki Sauce is excellent!) for an easy, delicious, vegetarian lunch or dinner. Figure 3 to 4 felafel will fit in a pita when planning serving sizes.

Your recipe is missing three key ingredients from the left side of the page in the original cookbook. Eggs, tahini and breadcrumbs. It's much better with them.
Place all ingredients except flour in a food processor.
Blend until the consistency is uniform.
Thoroughly mix flour into the felafel batter with a spoon.
Heat a heavy skillet and add oil to coat completely. Wait until oil is heated and water sizzles upon contact when sprinkled into pan.
Drop tablespoons of the batter into the oil, flattening slightly with a spatula like a small thick pancake. When bottoms are crispy and browned, flip them over.
Place cooked felafel on a plate lined with paper towels to absorb any residual oil.
Keep warm in a 300 degree oven if not serving immediately.
***Note: Felafel may be deep fried, but use a standard vegetable oil as opposed to olive oil which does not have a high heat tolerance.