Fake-Out "chi'kn" Nuggets
Herb-Cat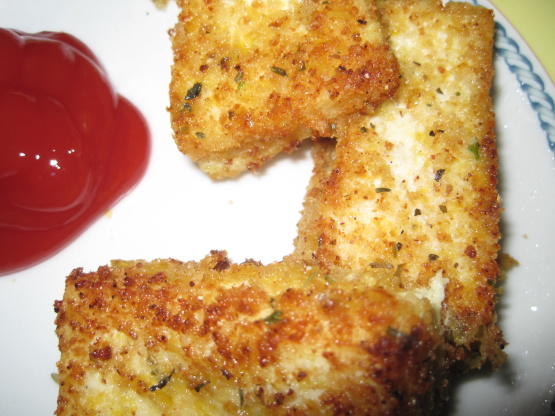 We had dinner witha vegan friend one night and for the kids she made these nuggets. not only did the kids love them, but I couldn't stop eating them.. You'd never guess they were Vegan
Very tasty! I also froze/thawed/pressed my tofu. I also subbed half oregano, half thyme for the parsley and added 1/2 tsp of "chicken" broth powder. The spices as listed are delicious! I will be making this again! I'll cut the tofu into smaller pieces if I make this for non-tofu lovers so the nuggets are more crispy. Thanks for sharing!
Whisk together the soymilk, mustard, nutritional yeast and spices until smooth in a wide bowl. Place bread crumbs in a separate bowl.
Coat each piece of tofu with soymilk and mustard mixture first, then coat with bread crumbs. Fry in oil until golden brown, serve with ketchup, barbeque sauce or other dipping sauce and.