Fake Crab Salad Sandwiches
Parsley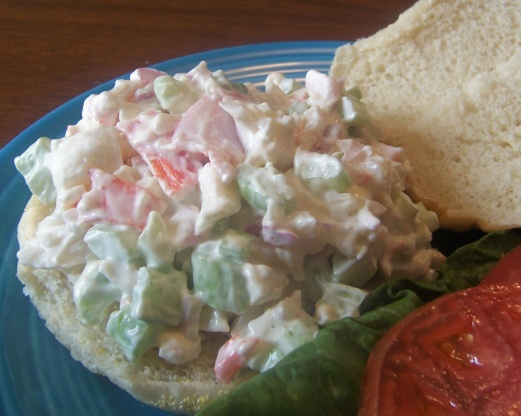 This recipe uses those fake crabmeat "sealegs" you find in the grocery store. I can hear the purists out there groaning already. Fake crab is actually made with real fish, but seasoned to taste like crab. My daughter has a particular fondness for sealegs, and this is one of my favorite ways of preparing it for her. I don't think fake crab tastes much like real crab at all and highly recommend you do give real crab a try sometime. But for those times when you don't have any real crab, why not give this a try? It doesn't matter if you use "flake style" or "chunks" or "legs" in this recipe.

Top Review by Geema
I served this delicious sandwich filling on croissants with some watercress. I had a bottle of leftover cocktail sauce in the fridge, and added a little more than a tablespoon to the surimi mixture. There was a little bit leftover from our sandwiches and I ate it on potato chips for a snack later in the evening. YUM.
226.79

g package imitation crabmeat

118.29

ml Miracle Whip (regular or light) or 118.29 ml mayonnaise

2

stalk celery, finely chopped

44.37

ml red onions, finely chopped
salt and pepper, to taste

Optional Accompaniments

4

hamburger buns or 4 other soft rolls

4

large lettuce leaves, washed and dried
Drop fake crab into a food processor (or one of those hand crank food processing bowls) and pulse just a few seconds- to break up the crab into small chunks (don't go overboard).
Add Miracle Whip and pulse (or hand crank) another couple of seconds until crab is minced and all is blended.
Stir in finely chopped celery and red onion (do this by hand or you will end up with mush).
Season to taste with salt and pepper, if desired.
Serve on a soft bun with lettuce.