gailanng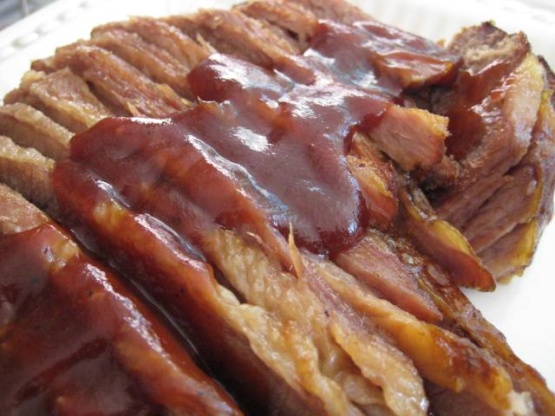 This is one of my most favorite recipes for parties because it is fast, easy, and can be made ahead of time. It's not the normal barbecued brisket because, well, it's not barbecued. Yep, this is roasted in oven, but it has all of the BBQ taste. I promise you will love this. (Oh, and this recipe can be doubled, tripled, or just duplicated as many times as you need to for the right servings.)
Party Favorite!! I tried this out for my sons 7th Birthday, my wife and her family complimented me on the meats taste and tenderness. I will admit that I did add about 1/2 teaspoon of cayenne pepper and I doubled up on all of the dry seasoning since my brisket was a few pounds heavier. I also never basted it, I tightly sealed the aluminum foil it was in and I let it cook through with out ever opening it. Super Easy, Super Awesome!
Preheat your oven to 250°F.
In a small bowl mix together all of the seasonings and set aside In a 9"-13" pan, that has been lined with foil, place the brisket fat side down.
Sprinkle the brisket with half of the seasoning mixture, flip it over, and sprinkle the fatty side with the rest of the seasoning.
Turn the oven temperature down to 200°F and place the brisket in oven.
Cook for 5 hours, basting with its' juices about every hour or so When the brisket is done, remove it from the oven and let it rest for 10 minutes.
After 10 minutes, cut it against the grain, and then pull it into shreds Place it in a bowl, and stir in the barbecue sauce.
Enjoy this on chips, crackers, buns, pasta, salad, or just straight up!