Fajitas De Res Al Tequila - Beef Fajitas With Tequila
Derf2440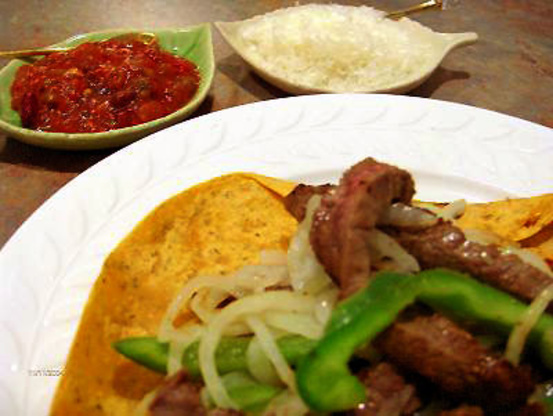 I found this recipe from the internet site - Mexican Hot... Or Not! This recipe is by Karen Hursh Graber. I made this at home and it is very good and easy to make!

Loved this marinade. I made these last night for dinner and we all loved it. My 4 yr old nephew said they were the best "tacos" hes ever had! LOL I will continue to use your recipe, we love fajitas and this has a flavorful marinade that makes the dish. Thank you for sharing.
Cut the steak into pieces that will fit on your grill, or into your grill pan or skillet.
Place the pieces of meat into a non-reactive bowl.
Mix the garlic, lime juice, cumin, tequila, salt, and 1/3 cup vegetable oil.
Pour over the meat and marinade for 2 hours.
Remove the meat from the marinade and grill over hot coals or in a grill pan or skillet over med-high heat.
Do not allow meat to dry by overcooking.
Heat the remaining 2 tbsp vegetable oil and sautee peppers and onions over med-high heat until they are crisp/tender.
Cut the grilled meat into strips and serve with pepper and onion mixture.
Serve with warm flour or corn tortillas.
Can also serve with optional sides: sour cream, avocados, guacamole, salsa, cheese, lettuce, etc.