megs_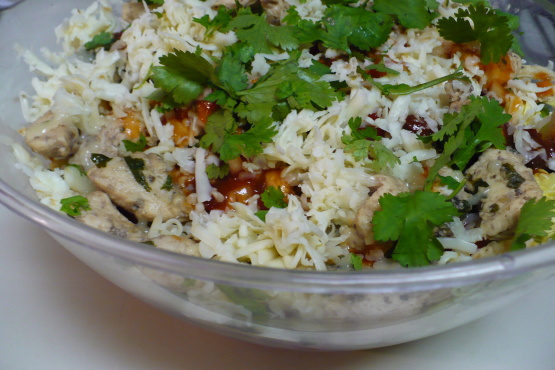 This makes a beautiful layered Fajita Salad. Arrange the ingredients in a glass bowl - to show off the tiers. Very simple yet elegant. From Cuisine.

This is a great salad! Unfortunately I didnt have the chipotle, but I am sure that would have made it even more amazing. The dressing has great complex flavor, very good. I think it would be good with some chopped up avacado, maybe 1/2 can of corn. A big winner in our house!
Combine ingredients for dressing in a small bowl.
Remove 1/4 cup for marinating flank steak; set aside.
Marinate steak in 1/4 cup dressing for at least 15 minutes or up to 2 hours.
Chill if marinating the steak longer than 30 minutes, otherwise it may be marinated at room temperature.
Prepare ingredients for salad, keeping components separate.
Heat oil for searing the steak in a large nonstick skillet over high heat.
Remove steak from marinade (discard the excess); season with salt and pepper.
Sear steak on both sides until medium-rare, 3-4 minutes per side.
Transfer meat to a cutting board and let rest 5 minutes, then thinly slice steak against the grain with a sharp knife.
To assemble, layer half the greens in a deep glass bowl (a 12-cup trifle bowl is perfect).
On the lettuce, layer half of each of the tomatoes, cheese, chips, beans, cilantro, scallions, and steak slices.
Drizzle with half the dressing, then layer the rest of the ingredients.
Pile the other half of the steak slices in the center, and drizzle remaining dressing on top.
Garnish with a dollop of sour cream and serve.
Makes about 10 cups.