Fajita Chilaquiles Casserole
FolkDiva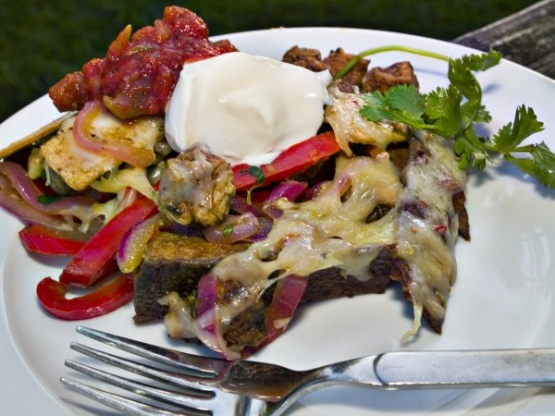 A Rachael Ray recipe that sounded too good not to post!

Thank you for the amazing recipe! I followed the recipe, other than using real garlic with the spices to rub the meat and not using onion powder as I'm not a fan of either garlic powder or onion powder. I used the whole bottle of beer (Modelo Negro), 1/2 with the meat, and 1/2 with the veggies and both absorbed within a short time period. We took the time to cut and bake the tortilla shells, which was worth it although you would probably get similar results with manufactured tortilla chips. Next time we are looking forward to trying beef, although were seriously happy with the chicken. Amazing flavour!
Pre-heat oven to 400ºF.
On a baking sheet, toss tortilla strips with some cooking spray and bake in the oven until golden brown, about 10 minutes. Toss halfway through the cooking time so they get brown on all sides.
In a small bowl, combine the onion powder, garlic powder, cumin, cinnamon, chili powder, oregano, salt and pepper. Toss your meat of choice with the spice mixture and reserve.
Place a large skillet over medium-high heat with 2 turns of the pan of oil, about 2 tablespoons. Add the meat to the pan and sear until golden brown and cooked through, 5-6 minutes. Add the bottle of beer to the pan and cook to reduce, 3-4 minutes.
While the meat is cooking, place a second large skillet over high heat with 2 turns of the pan of oil, about 2 tablespoons. Add the peppers, onions and garlic to the pan, and cook until brown around the edges and tender, 3-4 minutes. Add the zest and juice of 1 lime, chopped herbs, salt and pepper to the pan, toss to combine and reserve.
When everything is ready, toss the meat, pepper and onions, and toasted tortilla strips together into a casserole dish. Top with the cheese and melt under the broiler. Garnish with juice of remaining lime, sour cream and salsa.