GaylaJ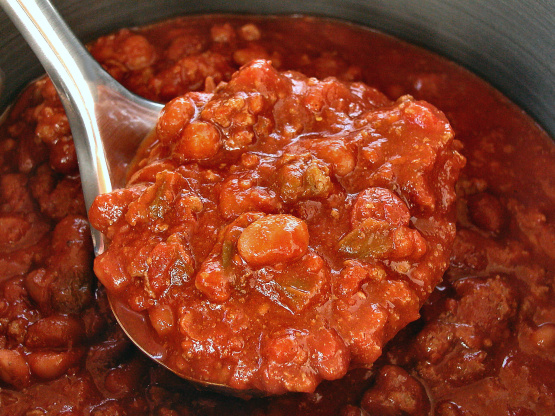 I have made this for years and everyone loves it. I add more tomato sauce then called for and spices depending how spicy you like it. I also double the recipe so we can eat it more than one day. I also use 3-15 oz cans of tomato sauce based on me doubling this recipe and because we like it juicy. If you would like you can top with shredded cheddar cheese.. I make this with grilled cheese and pb&j spriral's for a complete meal. If you want to up the heat, add a can of chili's and put more chili powder

Very nice chili recipe, similar to how I make my chili. I did double the recipe and added the extra tomato sauce and spices as Faith58 suggested in her description. A great versatile recipe that will suit many different tastes. Thank you for sharing!
Cook meat and onion and green pepper until meat is browned and vegetables under tender. Drain.
Stir in remaining ingredients and cover and simmer for 1 hour. Remove Bay leaf when finished.