Pikake21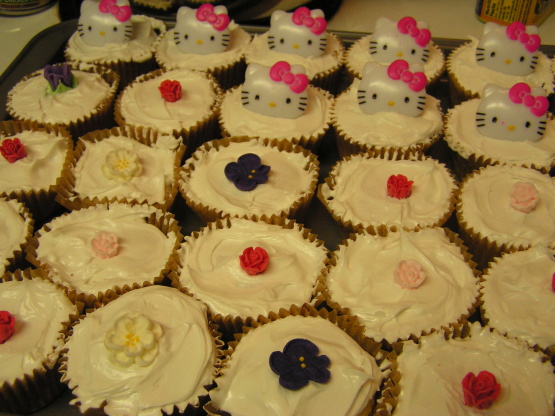 My best friend made these for my bridal shower and they were really great! The best part was decorating them, they were the most beautiful "cupcakes" I'd ever seen. the recipe is from the cookbook "How To Be a Domestic Goddess" by Nigella Lawson.

I made these cakes last night, from the "Domestic Goddess" cookbook: They could not be easier and were delicious. When I decided--on the spur of the moment--to make them, I discovered I was out of milk, but had lemons, so I substituted fresh lemon juice for the milk to make lemon cakes. It worked wonderfully. Also, I have a small food processor (3 cups or so), and was afraid it wouldn't be large enough for the batter, but it turned out to be the perfect size. These were such a hit with both kids and adults, and so quick and easy, that they will be made again, and I can't wait to try the chocolate version in the cookbook. For my lemon cakes, I made a fluffy lemon buttercream type frosting, but next time I will try a thinner, smoother icing, as above. (In the cookbook, "Instant Royal Icing" is recommended.) One last note--the fact that this only makes a dozen cupcakes (combined with the quick and easy factor) makes it a perfect family desert or treat.
Preheat oven to 400 degrees F.
Line a 12 cup muffin tin with baking cups.
Put all the ingredients except for the milk into a food processor and blend until smooth. Pulse while adding the milk down the funnel to make for a soft consistency.
It doesn't seem like enough, but you can get enough into each baking cup, just scrape it all out and try to fill each one equally.
Bake for 15-20 minutes or until they are golden on top.
Cool on a wire rack, but remove from the tin as soon as possible.
Before you decorate, slice off any mounded tops so you have a flat surface to decorate. Icing: Mix the sugar, egg white and lemon juice in a small bowl until smooth and creamy, it should have the consistency of heavy cream I always break the batch into smaller batches so I can have different colors When my girlfriend made these for my shower, she frosted them with a bright pink icing, sprinkled them with iridescent edible glitter and topped it with an edible (gum paste) rosebud.
Very very cute!
In the cookbook they show them topped with rosebuds and little sugared daisies and fresh berries and they even made a spiderweb with black and white icing.
Use your imagination, the flat tops give lots of room to be creative!