Fair Dinkum Aussie Meat Pie
Alskann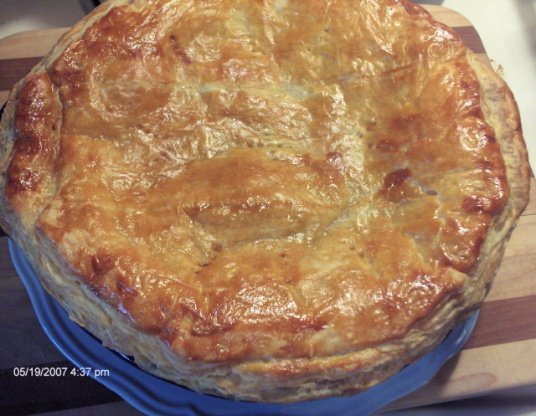 This is THE easiest and most delicious Aussie Meat Pie. My grandmother passed this recipe on from generations ago. It uses minimal ingredients and you WILL want more! Guaranteed!

Talk about easy and delicious! This made a great "comfort food" meal with very little effort or mess. This was just enough for myself and two hungry men. I will double it if have more at my table. The finished product looks beautiful too. This would make great lunch box leftovers I think. I gave it 4 stars (which is still good in my book) because there is a little confusion in the directions. Down where it says to Brush with beaten milk, I assumed it meant egg since the ingredients call for a beaten egg but does not mention where to use it. I had to do an internet search to make the temperature conversions (not a problem - Dee-licious! is down under - I'm in Alaska) For any other Westerners wanting to make this yummy dish, 200 degrees = 400 farenheit or Gas mark 6 for Euro. 180 degrees = 350 farenheith or Gas mark 4.
3

sheets puff pastry

500

g good quality beef mince

1

large onion, finely chopped
salt and pepper
1 1⁄2 tablespoons gravox or 1 1⁄2 tablespoons instant gravy mix, dissolved in

1

cup water

2

tablespoons milk

1

lightly beaten egg
Preheat hot oven (200 degrees).
Line a medium sized oven proof pie dish with 1 1/2 sheets of pastry and trim the edges. Make sure the pastry covers the base and up the sides of the dish.
Cook mince and onion until mince is brown, season with salt and pepper.
When meat is cooked, thicken with the Gravy mixture.
Tip into prepared pie dish.
Brush around edges with milk. Put the 1 1/2 on top of pie to seal. Trim edges and prick with a fork. Brush with beaten milk.
Cook in a hot oven 15 minutes, then turn oven back to moderate (180 degrees) and cook a further 20 minutes.
This pie is great served with mashed potato, peas and plenty of tomato sauce!