Fabulous Penne a La Vodka
diner524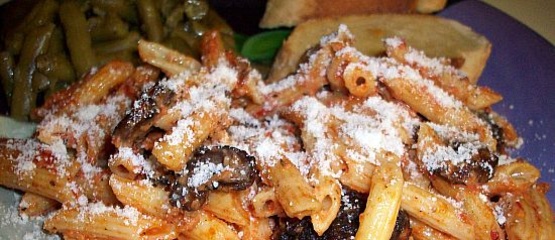 This is the best Penne a la Vodka I have ever had! I cannot even order it in restaurants anymore, since it will never stand up to this fantastic recipe!

All I can add is WOW. This is my first taste of penne vodka and now I can't even imagine ordering it in a restaurant. I picked the recipe but asked my husband to cook it one night after work, thinking it was a quick dinner. It took him a long time and we had a good joke over that.......the first night we ate this, we both went on and one about how good it was. For leftovers, we put this in a dish and topped with parmesan cheese. He then baked it and it was just as fabulous as it was the first night. For two people, this could be three dinners! I can't wait to make this for company. Thank you so much for posting.
Heat the oil in a large saucepan; when hot, saute the onions until golden brown, about 5 minutes. Add crushed tomatoes to the saucepan.
Stir in the oregano, basil, salt and pepper and simmer 1 hour to concentrate flavors.
While the sauce is cooking, heat 4 T of the butter in a skillet over medium heat. Saute the mushrooms and hot pepper flakes until the mushrooms are golden.
Carefully add the vodka and simmer for 5 minutes to cook off the alcohol.
Add the heavy cream and bring to a simmer; pour the cream mixture into the tomato puree; stir to mix. Keep the sauce warm while cooking the pasta.
Add the kosher salt to 6 quarts of water. Bring to a rolling boil. Add pasta to boiling water; cook uncovered until pasta is al dente, about 12 minutes. Drain well.
Melt the remaining 4 T of butter in a large skillet. Stir in pasta to glaze, then add Parmesan cheese and mix thoroughly. Stir in 1/3 or the sauce and mix with the pasta; divide among plates. Top each plate with some additional sauce; pass remaining sauce and additional cheese at the table.