Bergy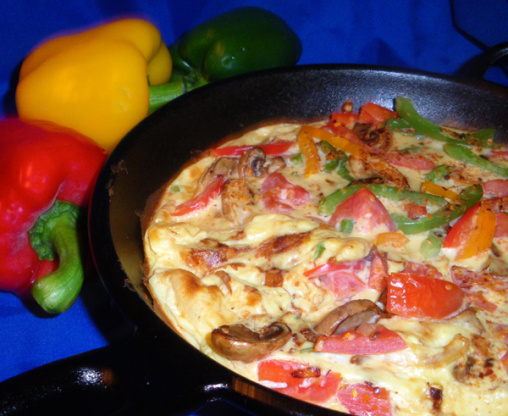 I love frittata. Its the epitomy of a quick, healthy meal. These can be eaten cold, hot, with salad, or not. You can really fool around with the ingredients and make it different every time.

I was looking for a simple, easily adaptable frittata recipe and this filled the bill very nicely. It's easy to tailor to personal tastes with various veggies and cheeses, and makes a quick but special Sunday breakfast. Thank you for posting, Moody!
Put the oven rack in the top 1/3 of the oven& preheat to 350 degrees.
Beat the eggs lightly, (don't be cruel), mix the cheese and herbs in, and set aside.
Spray a 8" non-stick, oven-proof frying pan with a little oil.
Heat the pan on med-high heat.
Add your vegetables to the pan.
Stir the egg, cheese& herb mixture one last time, and pour over the filling.
Stir lightly for about 30 seconds.
Turn heat down to med-low.
When the eggs begin to set on the bottom, use a spatula to loosen the edge of the frittata, and lift it slightly to let the unset eggs run underneath.
Continue to cook until the egg is not-quite set, about 4 minutes.
Put the pan in the oven, and cook another 4 minutes, until the top is set.
Remove the frittata, loosen the edges& slide onto a plate.