Fabulous Fiber Chocolate Chip Cookies
Sunflour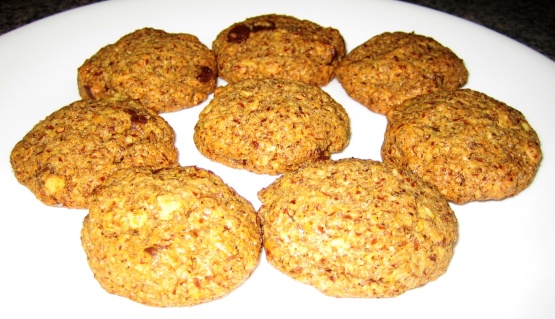 I invented these cookies because I wanted a healthier version of the good old chocolate chip cookies...They are brown (due to the flaxseed meal), crisp on the outside but softer on the inside...and very flavorful. They turned out really nice and everyone liked them. Enjoy!

I like the idea of making cookies with more fiber. These cookies didn't really turn out well for me. I followed the recipe, but my dough was too crumbly, so I added a little soy milk. I also added some cinnamon and nutmeg, which made the house smell good. The end product, though, is kind of tasteless and heavy. I'm not sure if I will try this again, but maybe more sweetener and salt would help. I think it's a good idea, but I'd have to do a little tweaking. Thanks!
Preheat oven to 350°. Line a cookie sheet with parchment paper.
In a small bowl combine first 5 ingredients (dry ingredients).
In a larger bowl beat sugars and butter until fluffy, then add egg white and dry ingredients, beat well.
Stir in chocolate chips.
Shape into little balls (I used my hands, but you could also use tablespoons I guess) and place on baking sheets. Press down with the palm of your hand (they won't spread, so press them as flat as you like your cookies).
Bake for 15-20 minutes (I baked them for 18 and liked them that way).