Fabulous & Easy Potato Casserole Side Dish
siebs514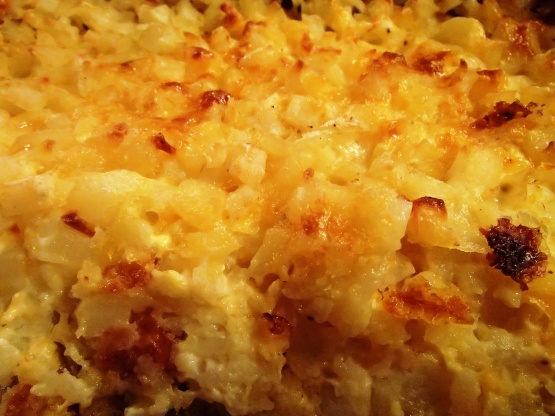 Just a few words before I post my recipe: This is one of the best recipe sites I've found on the web and I've looked at dozens over the past 16 years. When I posted my 1st recipe, Blue Mill Tavern Loosemeat Sandwiches, last March, I never expected the response it got (36 reviews!). It's extremely gratifying to know by just sharing a recipe I've been able to give joy to others. Thanks to all of you who have written me and those who've posted a review. It's heartening to know so many of you are trying new things. I've been cooking all my life-I live to cook and cook to live. I feel like I've found some kindred spirits here. Here's another family favorite via my SIL in northern Minnesota. It's been enjoyed by dozens of hungry eaters at my table. If you're looking for low-fat, low-carb, keep on looking cuz this isn't it. This is sinfully delicious, to be savored, not regretted. Consider yourselves forewarned:-) It goes especially well with BBQ ribs, baked ham, dutch oven chicken and is terrific with fresh fried walleyed pike but you try it with whatever you like. It also makes a large amount so it works well for a family gathering or a holiday meal. This dish will not only really please your husband, it will pass muster with the toughest mother-in-law:-) Bon Appetit!

I made this a few months back, got the seal of approval from the entire family plus extended family! Thanks!
Preheat oven 350 degrees.
Combine all ingredients and stir till well mixed.
Butter (or spray with Pam) a large casserole dish.
Pour mixture into dish.
Cover dish and bake for one hour.
Uncover and bake till top is golden brown approximately 20-25 minutes.
This dish reheats well either in the microwave or oven.