Fabulous Broiled Breakfast Grapefruit
Redsie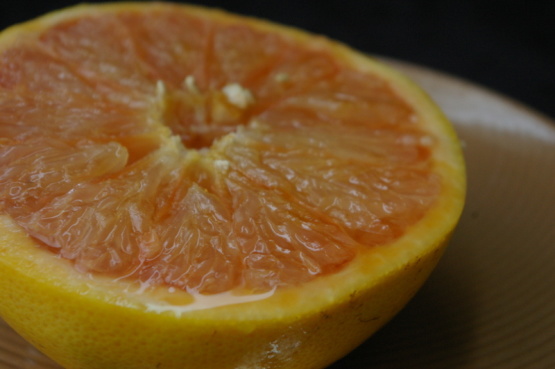 I saw this recipe on T.V. somewhere several years ago, and I've been making it ever since. I get lazy and don't bother to broil the grapefrut any more, but it still tastes great! Even my 3-yr. old now eats grapefruit this way.

Top Review by Hadice
I've never been a fan of grapefruit, but I received a basket full of them as a gift. This recipe is by far the best way to eat grapefruit. I added a little pinch of cinnamon to each half. Yum! I strongly suggest cutting sections prior to broiling. Otherwise, you have a very sticky mess on your hands!
Cut grapefruit in half (midway between the stem-end and the dot on the opposite end).
Sprinkle brown sugar over grapefruit sections, using more or less as desired.
Grapefruit can be eaten as is, or broiled.
To broil, put halves sugar-side up on a cookie sheet in the oven and set oven on broil for a few minutes.
The brown sugar should melt and start to get crispy.
Eat immediately by spooning out the half-sections of grapefruit.