ladypit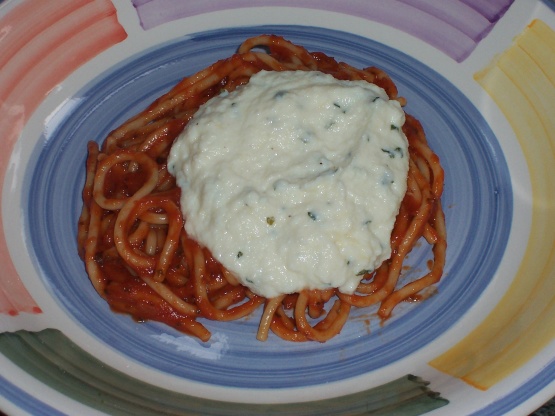 This is so delicious, and so easy. It's fantastic to have a lasagna-type dinner on a busy weekday night. Depending on your sauce, this is also a great vegetarian meal.

Quick and easy dinner. I used Prego and it was fantastic. Thanks!!
In a large pot of boiling salted water, add pasta.
Boil until done.
Meanwhile, heat the spaghetti sauce in a small pot and keep warm.
Also, prepare topping.
Combine chopped parsley, olive oil and cheeses in a small bowl.
Add salt and freshly ground black pepper to taste.
Drain cooked pasta and return to its pot.
Add spaghetti sauce and toss well.
Divide spaghetti between 4 deep soup plates.
Top each serving with 1/4 of the cheese mixture and serve.