Eye Opening Salmon Sandwiches
Derf2440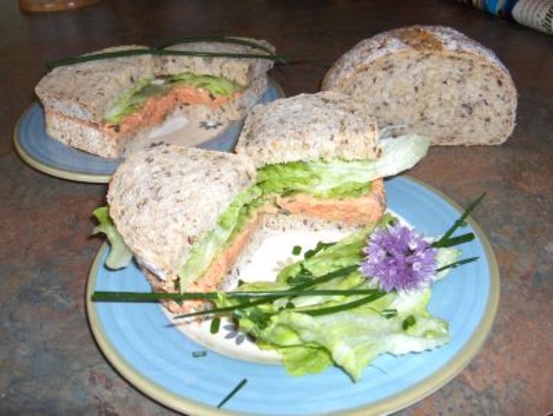 This sandwich has some kind of kick! If you add extra mayo or sour cream, you've got a great salmon dip for crackers.

So good! Used scallions instead of chives, Frank's red hot sauce instead of Tabasco and 1/2 a jalapeno pepper chopped up fine. Omitted the lemon juice as I didn't have any and sliced up some cucumbers and threw them onto pumpernickel bread with the spread. Great alternative to other canned salmon recipes i also love.
In a mixing bowl, combine the salmon, mayo, hot sauce, lemon juice, capers and chives.
Have ready 3 slices of pumpernickel bread; place 1/3 of the salmon mixture on each slice of bread.
Top each with a lettuce leaf, then remaining slice of bread.
Note that a milder hot sauce can be used, but increase the amount then.
Dark rye bread is a great substitute for the pumpernickel.