Extremely Tasty Hot and Spicy Tropical Barbecue Sauce
Cook4_6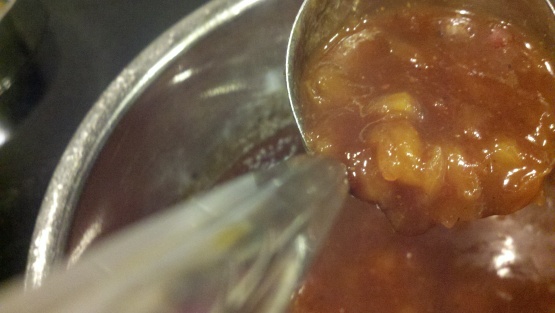 Okay....the name says it all, except that this is quick and easy to make! It uses items you grab off the grocery store shelves and throw together in a saucepan. Within 10 minutes you have a "WOW" tasting sauce. This isn't for a pork sandwich (although you could), but it is fabulous with grilled chicken, fish, or pork. Since the first review, I decided to add: If you can't find hot mustard based barbecue sauce, regular mustard based sauce will do, just add some dried red pepper flakes. The mustard barbecue sauce I use is very hot.

Extra delicious! I used 1 cup of Sweet Baby Ray's and 1 cup of Guy Fieri's Carolina BBQ sauce and added 1 T of prepared mustard along with the other ingredients. It was the perfect combination of tangy sweet and spicy! We just loved this on pork chops and think it would be ideal for ribs!
Combine all ingredients in a saucepan over medium heat.
Cook until heated through.
Baste your meat with the sauce and enjoy!