Extremely Easy Carrot Muffins
Boomette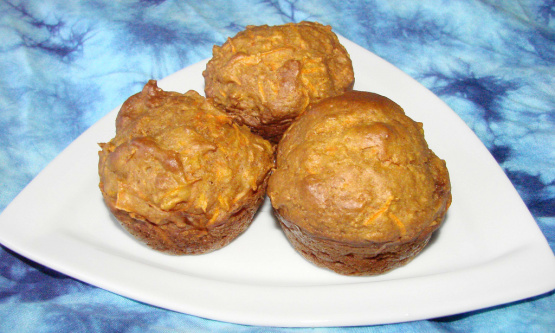 An easy and good carrot muffin recipe. Add raisins, walnuts or other ingredients if desired.

As is, these muffins were wonderful and easy to make. I also tried them with vanilla (preferred).
I've also substituted 1 cup quick-cooking oats for 1 cup flour -- both were equally good. The recipe yielded more than 18 muffins on my 2-inch muffin tins.

Thanks for sharing.
Preheat oven to 350°F (175°C).
Grease muffin cups or line with paper muffin liners.
In a large bowl, sift together flour, baking powder, baking soda, salt and cinnamon.
In a separate bowl, combine eggs, apple sauce and brown sugar; beat well.
Combine egg mixture and flour mixture; mix just until moistened.
Fold in carrots and drained raisins.
Spoon into prepared muffin cups.
Bake in preheated oven for 20 to 30 minutes.
Let cool for 30 minutes or eat immediately.