Extreme Low Fat Sweet-And-Sour Skillet Chicken
mmaguth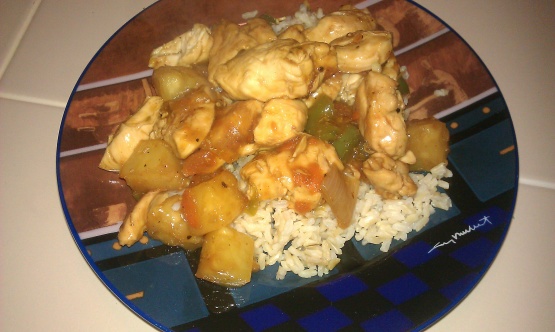 For a very low-fat dish this is really good, it has virtually no fat as the chicken stock is substituted for oil, and you won't miss the oil at all! You can double the sauce ingredients if desired :)

I was hungry for sweet & sour chicken so I did a Google search. When Kittencal's name popped up I knew I found the right recipe - and I was not wrong. Thank you once again for providing a delcious meal to our table!!! This meal was probably the brightest part of my entire week. Thank you for sharing this recipe with us. I'm adding it to my favorites cookbook.
In a large skillet, bring chicken and stock to a simmer over med-high heat.
Add celery, onion and sweet peppers; cook, stirring often, for about 5 minutes, or until chicken is no longer pink inside, and veggies are almost tender-crisp.
Mix together the juice, brown sugar, vinegar and soy sauce until blended.
Stir into skillet; bring to a boil.
Cook, stirring for about 2 minutes, or until glossy and thickened.
Mix the cornstarch with a small amount of cold water and add to the simmering sauce to thicken.
Add mango or pineapple chunks (if using), salt and pepper; simmer for 2 minutes, or until heated through.