Extreme Low-Fat Chocolate Cake
Redsie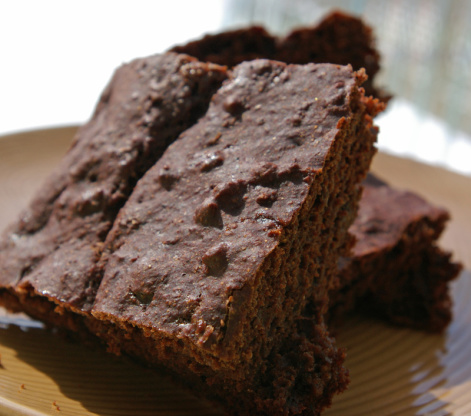 This cake is almost fat-free, if you are in need of a chocolate fix and watching your fat intake then this might be what you are looking for ;-) don't bother licking the spoon before baking as the yogurt makes it taste kind of tingly and weird, lol! Watch closely, do not overbake this cake you will need to experiment with length of cooking time to suit your oven and baking pan. Enjoy one or two pieces without any guilt --- for greasing see my Pan Release, Professional Pan Coating (Better Than Pam Spray!) --- *NOTE* for Weight Watchers program it is calculated at 18 pieces/2 points each
After reading all the reviews, I took the advice of chef #67656 and used both Splenda (3/4 cup) and Splenda brown (1/4cup), stirring both into the dry flour and cocoa mixture. My addition was a tablespoon of instant coffee crystals to negate any chemical aftertaste. It did the trick! I used 3 egg whites and 1 egg yolk. As did Chef #79888, I whipped the egg whites into a soft meringue then folded them into the batter. Mine was perfectly done after a mere 20 minutes convection bake time. I had no trouble with the cake sticking to the pan even though I just used cooking spray on the bottom. While it was hot, I smeared it with sugar free orange marmalade as a pretend frosting. I was *very* impressed with the results, both in texture and taste! If you did not know, you would never guess that it was essentially fat free. Thanks for posting this recipe! I am sure to use it often!
395.10

ml flour

295.73

ml sugar (can use half white sugar and Splenda if desired)

158.51

ml unsweetened baking cocoa, sifted

7.39

ml baking soda

4.92

ml salt

118.29

ml applesauce

354.88

ml skim milk yogurt (or use low-fat or fat-free sour cream)

14.79

ml vanilla

4

egg whites (or use 2 whole eggs)
Set oven to 350°F.
Generously grease a 13 x 9-inch baking pan.
In a medium bowl sift the flour with cocoa powder, baking soda and salt.
In another bowl beat the sugar with egg whites and vanilla until well combined.
Mix in the yogurt and applesauce until thoroughly combined.
Mix the wet ingredients into the dry ingredients and beat on low speed until just combined.
Transfer to prepared baking dish.
Bake for about 30-35 minutes or until cake tests done (watch closely, do not over bake!).