Kathy228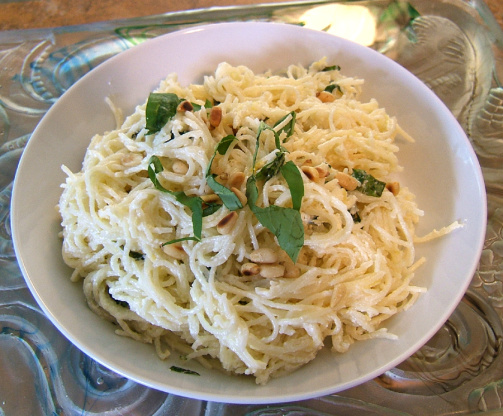 A very lemony pasta that can be eaten as a main meal with a salad and toasted bread, or as a side dish with chicken or seafood. It's especially delicious served with pan seared shrimp. I counted a tablespooon of lemon juice/zest as the yield from one medium lemon. So the amount can be a little under- or over if you like it really sour!

This was SO good!! I loved the tart flavor and the fact that it was pretty cheap to make. I used fat free half-and-half and parsley instead of basil because thats what I had. We'll be making this pretty often from now on. Thank you!
Boil pasta 'til almost done; remove pan from heat.
In another pan, that the pasta will fit into later, melt the butter and olive oil. Saute minced garlic til fragant but not brown, about 5 minutes.
Pour the cream into the pan.
Turn heat to med-high. Bring butter and cream to a gentle boil. It may curdle but will smooth out later.
Once boiling, add the lemon juice and zest. Turn down heat to simmer and continue stirring until reduced by almost a third. Remove sauce from heat.
Drain the pasta; pour it into the sauce and gently toss pasta with lemon sauce.
Grate parmesan over top, add the basil, and gently toss again.
To serve, plate the Lemon Pasta and garnish with more parmesan and sprinkle toasted pine nuts over.