Extreme Chocolate Mud Pie
Juenessa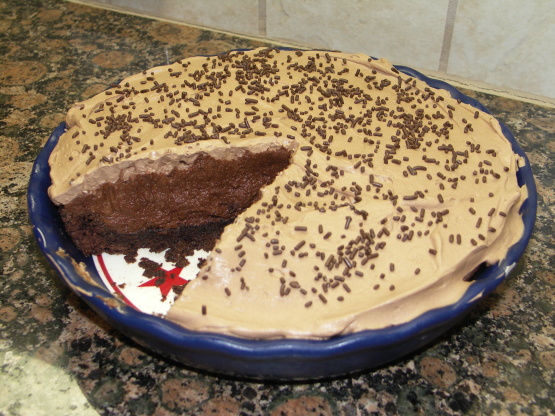 Oooooh, so good--chocoholics will think they've died and gone to Choco-Heaven!

I made this for a dinner party and was very pleased with the results. It can be made in advance, which is great for entertaining. It looked spectacular, which is another plus with company. And most important of all, the taste was over the top creamy chocolatey goodness. All that is needed is very thin serving slices of this, especially after a big meal.
Preheat oven to 350 degrees. Grease bottom & sides of a 9-inch pie plate.
FOR CRUST: In a mixing bowl, blend eggs, water and vanilla, mixing well.
Add brownie mix, soda, and flour, stirring until well blended. Spoon into prepared pan.
Bake for 10-12 minutes (take note of brownie mix directions). Remove from oven (crust will be puffy); cool for 30-60 minutes. Press crust down with back of large spoon, forming to sides of pan to make a hollow for filling. Continue to cool while preparing filling.
FOR FILLING: Mix sugar and soft butter on medium speed--about 4 minutes until very fluffy (scrape sides down several times).
Add cream cheese and continue beating another minute or two. Then pour in the COOLED, melted chocolate, beat to incorporate and add the vanilla; scrape sides.
Slather filling over the crust. If using chocolate chips and nuts, sprinkle over the filling and press in gently. Chill.
FOR TOPPING: Use same mixing bowl, combine cream with sugar and cocoa, whipping until soft peaks form; whip another 30 seconds.
Sploosh over the filling, making delightful swirls.
Chill for several hours in fridge OR zap in the freezer for less time.
Right before serving, sprinkle with several dashes of snowflake-shaped or chocolate decors.