ibshafer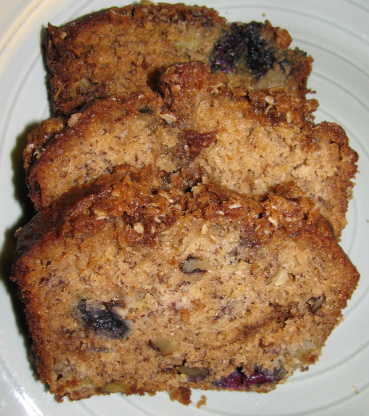 Extreme Banana Bread (Not For the Faint of Heart…) I don't know which one of the Seven Deadly Sins I'd be, but there are definitely elements of greed ("I want it all!") and gluttony ("More!! More!!") in this recipe. With a basic banana bread at its base, I just kept finding elements I thought would add to and complement the flavors: walnuts, apples, brown sugar and cinnamon streusel, almond extract (my personal fave – I want to bath in it!), but it was the purchase of blueberries for a blueberry peach pie that really lit up my idea light bulb. I know what you're all saying – it's too much! That, my friends, is the reason for the warning. (See recipe title) If you, like me, like more – more flavor, more substance, more sweetness – this is the banana bread for you, extreme banana bread. If you're watching your sugar or your waistline, I'm thinking you might want to graze elsewhere. If not, prepare this and be prepared to enjoy the heck out of yourself!
Preheat oven to 350 degrees.
Prep loaf pan – grease with spray, shortening or butter.
Prepare streusel topping: Blend dry ingredients together. Add almond extract, then cut in butter until mixture is soft and crumbly. Set aside.
Prepare bread batter: In large bowl combine 1 cup of the flour, the sugar, cinnamon, baking powder, baking soda and salt. Add mashed banana, almond extract, butter or shortening and milk. Mix with spoon until well blended. Add eggs, remaining flour and oats. Beat until blended. Add apples, walnuts and blueberries and fold batter lightly to distribute. (Be careful not to break berries.).
Pour half of batter into prepared loaf pan. Break up and crumble 2 tablespoons of streusel mixture over top, then add remaining batter to pan. Cover with remaining streusel.
Bake in 350 degree oven for 55-65 minutes or until toothpick inserted in center comes out clean.
Makes 1 loaf (16 servings) [Oh, who're we kidding: it makes 1 big serving…].
The banana bread is good warm or cold, but do yourself a favor and have a slice about 10 minutes after it comes out of the oven!