Extra Tasty Nacho Chips and Cheese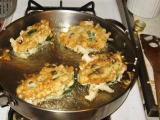 Woah, baby! I have this snack pretty frequently with multiple variations because I use whatever is available in my fridge -- last night I hit the el-primo combination. I will definitely use this combo over and over from now on. I hope you like this great brunch (or midnight) snack as much as I did, my friends!
Directions
Lay out the chips on a microwave-proof plate.
Add all the toppings except for the salsa and Tabasco, layering the cheese on last.
Microwave on the high setting for one minute.
Sprinkle on the Tabasco and spoon the salsa on to the gooey chips as you eat them. I use medium hot salsa and I prefer the Bellview brand to all others (except for home made.).
Reviews
Most Helpful
Made this yesterday for a snack and I did add some onions to the nachos and used some fresh diced jalapenos. I had Salsa Salsa!#318416 by chef#916598#916598 to top them with. Very good and simple recipe. Made for Let's P-A-R-T-Y 2009.
My wife has been making something like this for years, she uses green olives ( does not like black ) and some fine diced onion under the cheese... Great recipe Bone Man Thanks!