Extra Spicy Refried Beans with Lettuce, Tomato, and Lime
NELady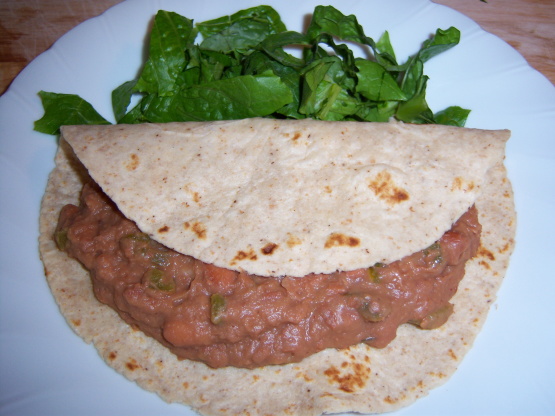 You will love this new version of refried beans! From Rachael Ray's "30 Minute Meals"

Top Review by Debbwl
A great meal for those weeknights when you are busy and tired. Simple and quick, just add tortillas and you have a complete dinner in under 30 minutes. The only change I made was to us 1 fresh jalapeno in place of canned. The lime juice is a must as that is what really makes this dish stand out. Thanks so much for the post.
Heat canned refried beans in a medium skillet over medium heat.
Stir chopped jalapeno,hot sauce and garlic powder into refried beans.
Reduce heat to low and keep warm until ready to serve.
Combine lettuce and tomatoes in a bowl.
Squeeze the juice of 1 lime over the bowl and season the lettuce and tomatoes with salt.
Toss to combine.
Drizzle olive oil over the bowl and toss lettuce and tomatoes again.
Serve refried beans along side lettuce and tomatoes.