Extra-Special Ham Sandwich (Inspired by Starbucks Ham and Brie)
2Bleu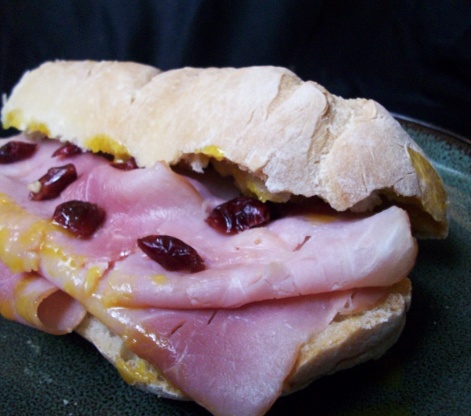 I recently tried this sandwich from Starbucks. The original sandwich was Black Forest ham, brie cheese, honey mustard, and dried cherries on a French baguette. I can't eat dairy products, so I painstakingly stripped the sandwich of Brie, which was difficult since Brie is a soft cheese. What I had left was delicious though. Not normally a fan of Black Forest ham, I would buy it in order to recreate this sandwich. I'm posting this for safekeeping, so I don't forget how to make it. Try not to think of this as a true copycat, but inspired by the original. The honey mustard, dried cherries, and ham go together like a dream. I never would have tried this combination, but glad I did. Making your own, even if you add Brie to yours will be a lot cheaper, too. Ingredients are for one sandwich, but the amounts are to taste. If you want to add the Brie, the original Starbuck's sandwich had 4 thick slices that were laid out 2 across and 2 down on a long french baguette. Each of the Brie slices were probably an inch long and 1/4 inch wide and several centimeters thick. They were laid out on top of the ham.

YUM! Thoroughly enjoyed this for yesterday's brunch. I'm not sure what kind of ham black-forest ham is, so I used the best cut of ham available at my deli. I also could't find dried cherries but was more than happy to use pitted, well drained black cherries halved. Loved it. And the mustard went so well with the other two ingredients: a great blend of flavours and SO different from the more conventional ham and tomato or ham, cheese and tomato combination. And the omission of cheese (which I DO have a weakness for) makes this so much healthier a choice. I'm delighted to have found this recipe, blancpage, and shall be making it often for work lunches. I just wouldn't want to add anything else to it. On this occasion, I used a baguette, but I'll also be making it as a ciabatta sandwich. Just love crispy breads. Thanks so much for sharing it. The closest I'd been previously to Starbucks BTW was watching 'I am Sam'! Made for PRMR.
1

(6 inch) French baguettes (or any kind of crusty French roll or French bread)

4 -8

slices deli-sliced black forest ham (depends on how meaty you want your sandwich)

2 -3

teaspoons honey mustard
To assemble the sandwich, split the French baguette lengthwise, but not all the way through, so that there's a "hinge" on one side.
Spread desired amount of honey mustard on both sides.
Pile on the sliced Black Forest ham.
Sprinkle with desired amount of dried cherries.
Close up the two sides of the sandwich, and eat. :).