Extra Moist Lemon, Sour Cream and Vanilla Pound Cake
lhbishop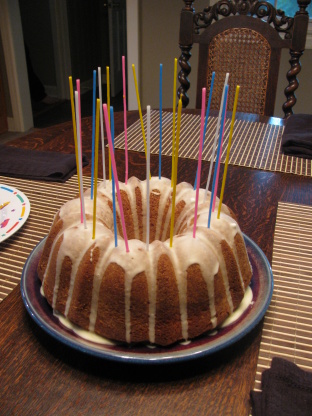 Like eating a slice of decadent wedding cake. Can be used as one too!

FANTASTIC pound cake. I only have regular sized bundt pans, and I don't think all the batter would have fit in any of them. I used a 10" tube pan, with 4" high sides. Baked til it tested done, around 1 hr., 20 mins. was perfect. I followed the recipe, except I switched step 5 and 6, doing 6 before 5. I didn't beat the flour a long time, just til it was fully incorporated, slowly adding the sifted mixture with the mixer running on low. In my cake experience, beating cake batter makes for a tough cake. I finished it off with a lemon-limoncello syrup made with 1/2 cup fresh lemon juice, 1/2 cup granulated sugar, and 1/2 cup limoncello. Simmered til sugar was dissolved. When cake was 10 minutes out of the oven, I poked holes in it, and while still in the pan, I soaked it with the lemon syrup. It came out of the pan beautifully when completely cool. I did line the bottom of the tube pan with waxed paper, and I greased and floured the pan generously. This cake has a great lemon flavor, probably one of the best I've ever tasted!
Preheat oven to 325°.
Spray a Bundt pan with nonstick spray and set aside.
Cream together softened Butter and Sugar.
Add Eggs, one at a time and beat,then add Sour Cream.
Sift Flour and Soda together and add next along with the Instant Pudding.
Last add Vanilla, Lemon Extract, Juice and Zest, Mixing until batter is light and fluffy.
Pour into the sprayed Bundt pan and bake for 1 hour and 15 minutes, or until toothpick inserted comes out clean.
Warning! Some oven temperatures may vary so keep an eye on this one!
Serve with a Lemon Glaze or just sprinkle with Powdered Sugar.
Enjoy!