Extra Moist Chocolate Fudge Snack Cake
Juenessa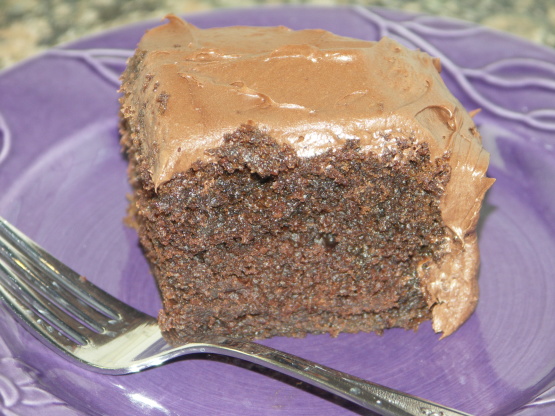 This is not a deep dark chocolate cake, I can tell you that it is extremely moist and very good, and is great even without any frosting, you may want to cut back on the sugar if using sweetened applesauce.

Thank you Kittencal! This is my GO TO Chocolate Cake Recipe. Way more than a "snack cake".
I usually make cupcakes with it. It makes about 18 cupcakes if you fill the cups 3/4 of the way. Cupcakes take about 18-20 mins at 350. This cake is sooooooooo good. I don't eat sugar, so I used whey low in this recipe and NO ONE can tell the difference. I've also made with a variety of flours (gluten-free, low carb, whole wheat pastry flour) and it's just as good. And since I'm already using unsweetened choocolate squares, here is the EASY frosting that I use:

Old Fashioned Hard Fudge Frosting:
1 cup sugar
1/2 cup milk
1 tsp. butter
1 tsp. vanilla
2 squares unsweetened chocolate

Add sugar and milk, butter. Stir until boils HARD! Boil HARD 6 minutes. Don't stir while boiling. Remove from heat. Add vanilla and chocolate. Stir until chocolate melted. Pour over cake. Will be a hard, shiny frosting. Tastes like fudge. Frosting sets up very quickly.
Set oven to 350 degrees.
Grease an 8 x 8-inch baking dish.
In the microwave, melt the chocolate and butter for about 1 minute, then whisk or stir until smooth; set aside.
In a bowl combine flour, sugar, baking powder, baking soda and salt; set aside.
In a medium mixing bowl, combine the buttermilk, applesauce, oil, vanilla and egg, then add to the dry ingredients along with the chocolate mixture; mix until combined.
Add in mini chocolate chips and nuts (if using).
Pour into prepared baking dish.
Bake for about 40-45 minutes, or until cake test done.