Extra-Flaky Southern Buttermilk Biscuits
Nimz1466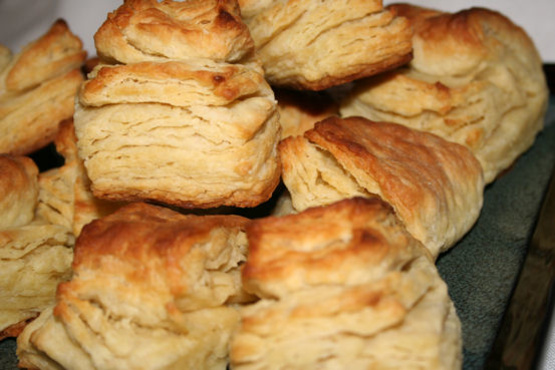 These biscuits are folded, creating a layered effect. These biscuits are well worth the effort--tender and very flaky. For best results, use White Lily all-purpose flour. It is ground from a special low-gluten soft wheat and is perfect for making biscuits.

To Lily Gibson, There could be several reasons your biscuits didn't rise. 1. Your oven is not properly calibrated. Check the temperature with a thermometer to see if the temps are true. 2. You did not carefully measure the ingredients. For the most part baking is exact. I am a long time avid baker and the directions for these biscuits were excellent. I made them and they rose very high and were flaky and fluffy. They were pretty amazing. 3. You over-worked the dough. Biscuit dough should be handled as little as possible 4. You let the fat (butter and buttermilk) become too warm in the handling. Biscuit dough should be kept cold (like pie dough). The butter should stay very cold and as solid as possible as its distributed through careful handling when flattening it out before you apply the biscuit cutter (or whatever you use to cut the biscuits) 5. Try it again keeping these things in mind. After you cut out the biscuits slide the tray into the freezer for 10 min and then put them in the oven.
Preheat oven to 450° (500° if using a convection oven).
Line a large baking sheet with parchment paper.
In bowl, combine flour, cream of tartar, baking soda and salt.
Cut cold butter or shortening into dry ingredients with a pastry blender.
(Mixture will resemble coarse crumbs, with no large chunks of butter.) If butter gets very soft at this point, refrigerate mixture for 20 minutes.
Add 1 3/4 cups buttermilk, stirring just to moisten all ingredients.
Dough should be soft and moist; add remaining 1/4 cup as needed.
Turn dough out onto lightly floured work surface and knead gently about 10 times, or just untl dough holds together.
Roll or pat dough into a 14-by-10-inch rectangle.
With short side nearest you, spread top two-thirds of dough with 3 tablespoons soft butter, leaving bottom third, closest to you, unbuttered.
Fold dough into thirds (like you would fold a letter) by pulling bottom third up over center and then pulling top third over middle.
Turn dough so short side faces you.
Pat into a 9-by-12-inch rectangle.
In same manner, spread again with 3 tablespoons soft butter and fold letter style.
Turn once more in the same manner.
Pat into a 9-by-12-inch rectangle; spread with remaining 3 tablespoons soft butter and fold up.
Work quickly and gently so as not to overwork dough.
Pat dough into rectangle 3/4-inch thick on floured surface.
Cut into squares with a sharp chef's knife.
Place on pan, 1 inch apart.
Lightly brush tops with melted butter.
Bake in center of hot oven about 20 minutes (about 12 minutes in convection), until golden brown and firm.
Serve hot, warm or room temperature.