Extra Cheesy Lasagna for Roy
ktenille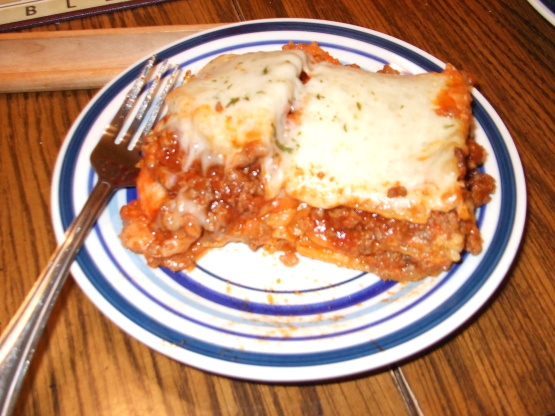 I don't eat lasagna myself but I do make it on occasion for my family. When we used to live in this little side by side duplex, I swear that my neigbor Roy could smell it through the walls. I still make it every time I go down to see him and his girlfriend. And yes it does say 2 lbs of mozarella. The man loves his lasagna cheesy.

Top Review by Sphinx
I think this is the Perfect Lasagna recipe for those who do not like Ricotta Cheese. I never ate lasagna because of my dislike for ricotta. But, I loved this lasagna. I used a little less than 2 pounds of mozz cheese (about 1 1/2lb) and it still came out very cheesy! I did add 1/2lb of lean ground beef because my husband likes it meaty. It came out great!
Preheat oven to 350 degrees F.
In a bowl, combine 1 lb mozarella, parmesan and eggs.
Mix well.
On bottom of greased 13x9 baking dish, spread 1 cup pasta sauce.
Top with half each of the uncooked lasagna noodles, egg mixture, ground beef, remaining pasta sauce and mozzarella.
Repeat layering.
Top with parsley.
Cover tightly with aluminum foil.
Bake 1 hour or until hot and bubbly.
Let stand covered 15 minutes before serving.
Refrigerate leftovers (if you have them).