Extra Cheesy Crescent Mozzarella Wedges
Dine Dish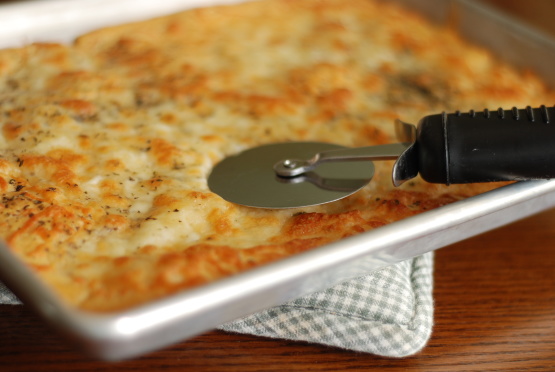 I was sitting here trying to figure out what would be a quick thing to feed my kiddos for lunch and at the same time thumbing through the most recent issue of Quick Cooking magazine. This recipe was submitted by Lisa Keesee and it is so simple to make with ingredients you most likely have on hand. These soft cheesy wedges would be great as an appetizer or as an addition to your next meal. For my kids, this and some carrots with ranch was their lunch and they loved it! If you love extra cheesy things and like the sweet flavor of crescents, then you'll love this recipe! UPDATED 2/15/2005 Thanks to the tips of some wonderful reviewers, I tried this a different way. These can easily be rolled into a big rectangle shape. I also sprinkled some oregeno and pizza seasoning on it and it added a whole new dimension of flavor!

I made this recipe on 12/31/11 for mine and my SO's New Year's Eve Dinner. After completing Step 3, some finely chopped ham and onion were added to make it a much more hardier meal.
After baking the crust seemed to be a bit on the soft side, so if this is made again I'm going to pre bake the crust for about 6 to 8 minutes then add the cheese( and any other toppings that I might be using). Thanks for posting a recipe that has lots of possibilities. " Keep Smiling :) "
Separate crescent dough into eight triangles; place on a greased 12 inch round pizza pan with points toward the center.
Press dough onto the bottom and up the sides of the pan making sure to seal the perforations.
Brush with butter; sprinkle with garlic powder and cheese.
Bake at 375 degree oven for 15-17 minutes or until crust is golden brown and cheese is lightly browned.
Cut into wedges and serve warm.