Extra Banana Chocolate Chip Muffins!
Boomette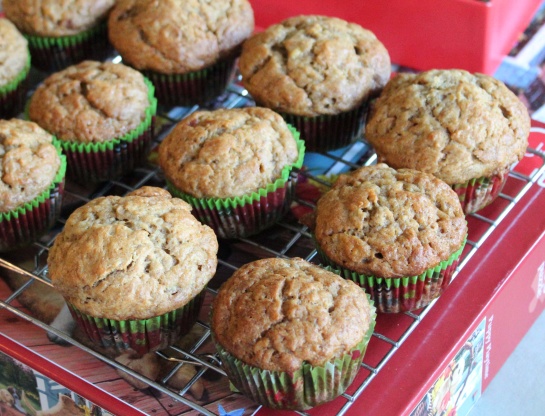 This is an adaptation of a recipe from another site. It's called "Extra Banana Muffins" because it has a lot more banana in it than most recipes- 2 1/3 cups! it smells really good while its baking. (Note: chilling batter and filling the cups to the top is a must if you want dome tops!)
I didn't see a big difference putting the muffin dough in the fridge but it's true that it can be great to come home and just take the bowl out of the fridge and bake muffins in just a few minutes. The taste is really good even though I forgot to add the chocolate chips. My son was disappointed lol The texture is a little bit too dense for my taste. Thanks VeggieHippie :) Made for Name that ingredient tag game
Preheat oven to 350°F (175°C).
Lightly grease (or line with paper cups) muffins tins.
In a large bowl, combine flour, baking soda, salt, cinnamon and nutmeg.
In a separate bowl, cream together butter and brown sugar. Stir in eggs and mashed bananas until well blended. (i use an electric hand mixer).
Stir flour mixture into banana mixture; stir just to moisten (lumps are okay.)
stir in chocolate chips.
chill batter at least 45 minutes in the fridge (important for dome tops)
Fill muffin tins to the very top (also important for dome tops).
Sprinkle with cinnamon sugar mixture.
Bake in preheated oven for 30 minutes, or until a toothpick inserted into center of a muffin comes out clean. Let cool in pan for 10 minutes, then turn out onto a wire rack.