crsntsun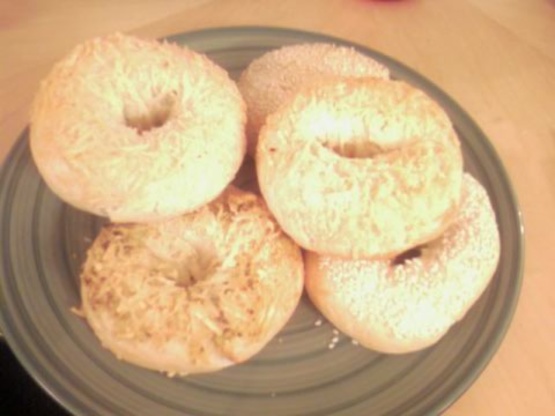 Quick and simple bagel recipe. Be sure to use instant, not active, dry yeast. Using instant yeast lets you cut down the cooking time.

This is only my second time making bagels(made a batch last night using a different recipe and wheat flour which did not go so well)and this time they came out quite nicely. I didn't leave as large a hole as I should have when forming and when they puffed up during baking I ended up with slits. (No problem for me they still tasted good). I also had to leave them in the oven about 30 minutes or so. They still had sort of a 'doughy' look to them at the 15 minute mark. Now that I know how they turn out I'll definitely be making them again and i'm sure my technique will improve as I do. Thanks for such an easy and quick recipe..*****update, I made these again with a few changes and they came out awesome!! After kneading the dough 15 minutes I let it sit for about an hour in a warm microwave. I then cut dough into smaller balls, put in some add ins and let them rise again for 20 minutes. I then shaped them, broiled them for 4 minutes then gave them their water bath for 7 minutes. Popped them in the oven for about 25 minutes and they came out fantastic.*****Will definitely be making these this way again in the future.... .
Put flour, sugar, and salt into large bowl and mix lightly. Add yeast and water, then knead together ingredients with hands. The dough will be sticky at first.
Once you have combined the ingredients into a manageable dough, take out the dough onto a flat kneading surface. Knead dough firmly with your hands until the dough is no longer lumpy and powdery, approximately 15min. Add sprinkles of water or flour as necessary to keep the dough manageable -- it will get elastic but pretty stiff.
Cut dough into 6 pieces. Shape each piece into a ball. Cover with plastic wrap or a damp paper towel to prevent drying.
Shape the dough. You can either poke a hole in the middle with your finger and stretch out into a bagel shape or roll out the dough into a rope and tie the ends together. The dough will expand, so leave a nice big hole in the middle.
Cover the bagels with plastic wrap and let rest for about 15 minutes (30-40 min during winter time).
In the meantime, fill a large pot with water and a teaspoon of sugar or honey and bring to a simmer. Preheat oven to 375 degrees.
When the dough is ready, carefully drop them into the water and let them simmer for about 15 seconds on each side, flipping them only once. The bagels should float. Keeping the water boiling too hard or flipping too much will cause the surface of the bagels to crinkle later. I usually boil two at a time.
Take the bagels out with a slotted spoon and blot excess water. If you would like to add toppings, do so now. For small or crumbly toppings such as sesame and poppyseed, dump out the toppings on a small plate and gently press the top of the bagel into the topping.
Put the bagels onto a baking sheet and let bake until brown, approximately 15 minute.
Note: You can use whole wheat flour and even ingredients such as cocoa, pureed spinach, pureed pumpkin/cinnamon/nutmeg to make different kinds (and different colors!) of bagel dough. Be sure to decrease the amount of added water accordingly -- I would try making the plain first to get an idea of what the dough should feel like.