Exotic Ya' Make a Jamaica Jerk Shrimp With Mango Papaya Salsa
tomsawyer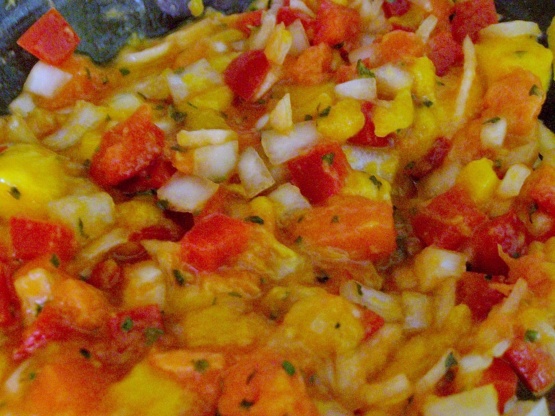 A simple and delicious jerk recipe created by the Exotic Epicureans for a ZWT3 challenge. This easy, versatile dish can also be made with pork or chicken. And it makes a wonderful vegetarian version. The spicy jerk seasoning is complimented by the sweetness of the mango papaya salsa. Times indicated are for shrimp, allow more time if using chicken or pork.

I am afraid that I did not make the main dish part of the recipe (though hope to in the future) but made the salsa. This was the perfect, basic, mango papaya salsa recipe! It was delicious and got eaten up within the day! Can't wait to make it again as I am a big fruit salsa lover! Thanks!
2

lbs shrimp, deveined with shells on

1

lime, for garnish
fresh thyme sprig, for garnish

ALTERNATE VERSIONS (in place of the shrimp)

3

lbs boneless pork shoulder or 2 -3 lbs boneless chicken breasts or 2 -3 lbs chicken thighs

2 -3

lbs assorted fresh vegetables (sweet potato, pineapple, mushrooms, onion, red or green peppers, papaya, etc.) or 2 -3 lbs fruit (sweet potato, pineapple, mushrooms, onion, red or green peppers, papaya, etc.)

MARINADE

1⁄4 cup fresh thyme or 2 teaspoons dried thyme

1

teaspoon dried parsley

2

teaspoons ground allspice

1

teaspoon ground cinnamon
1⁄2 teaspoon fresh ground black pepper
1⁄4 teaspoon ground cumin

6

fresh garlic cloves, minced or 1 teaspoon garlic powder
1⁄4 teaspoon ground nutmeg

2

teaspoons sugar

3

tablespoons snipped fresh chives
1⁄4 cup mild molasses
1⁄2 cup brown sugar corn syrup (can use dark if you can't find the brown sugar)
1⁄4 cup olive oil

1 -4

seeded and minced hot pepper (scotch bonnet, habanero or jalapeno can be used, more or less depending upon your level of desired h)

Salsa

1

bunch fresh cilantro (1/2 cup)

1

cup diced papaya

1

cup diced mango

1

cup diced red bell pepper

1

cup diced avocado (optional)
1⁄4 cup diced onion (red or sweet vidalias work well)

2

tablespoons freshly squeezed lime juice
Combine marinade ingredients and mix well.
Place shrimp (Or other choice of meat or veggies & fruit) in non-metal container.
(I used a gallon size zip-loc bag.).
Add marinade; coat evenly and refrigerate.
Let marinade for several hours or overnight. Turning occasionally to keep marinade evenly distributed.
Oil and pre-heat grill to medium low heat.
FOR SHRIMP AND/OR VEGGIES: (See below for other options).
Remove from marinade and thread onto bamboo skewers that have been soaked in water for 20 minutes.
Place on grill and cook over medium low heat until pink and cooked through, about 8-10 minutes, turning once or twice for even cooking. Cooking times may vary depending on your grill.
Veggies may take a bit longer depending upon the varieties you use.
SERVING SUGGESTIONS:.
Serve with mango-papaya salsa. (See instructions below).
Garnish with fresh lime and thyme if desired.
Goes nicely served on a bed of rice.
SALSA DIRECTIONS:.
Pinch the leaves off the cilantro stems.
Place in a small non-metal bowl with the remaining salsa ingredients.
Mix thoroughly with a spoon.
COOKING DIRECTIONS IF USING CHICKEN OR PORK:.
If using chicken:.
Remove from marinade and place on grill over medium low heat.
Grill chicken 8 minutes on each side, or until juices run clear.
If using pork:.
Remove from marinade and place on grill over indirect heat.
Cover and cook for 1 hour, turning occasionally.
Increase heat to medium high and continue cooking, turning as needed to prevent burning, until internal temperature reaches 150 degrees for medium well doneness.
Let meat rest 20-30 minutes before carving to allow juices to redistribute.
SERVE WITH SALSA AS INDICATED ABOVE FOR SHRIMP.