Excellent Yam and Apple Casserole
Luschka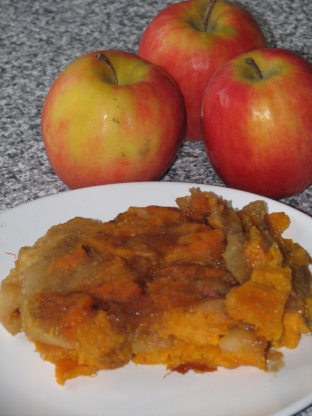 My mom made this casserole for Easter dinner. The dish received rave reviews from everyone including my 2 year old!

Amazing, love the sauce, not too sweet, and I added a little more lemon to give it more tang... love this recipe... thanks!
Boil yams for 30 minutes or until tender yet firm. For a quicker method, poke holes in the yams and microwave on high for 10 minutes.
In a saucepan over medium heat, melt the butter with the cornstarch and brown sugar. Whisk in the apple juice, lemon juice, cinnamon, and allspice. Bring to a boil stirring occasionally. Boil 2-3 minutes. Set aside.
Preheat over to 375°F and lightly grease a 9x13-inch baking pan.
Peel cooked yams and cut into 1/3-inch slices.
Place a single layer of yams down into greased baking pan. Second layer will be your sliced apples. Repeat with another layer of yams.
Dump sauce over top of yams.
Cover pan with tinfoil and bake for one hour. Remove foil and continue baking for another half hour. Baste every half hour to prevent the yams and apples from drying out.
ENJOY!