Excellent Taco Seasoning Mix
pesachz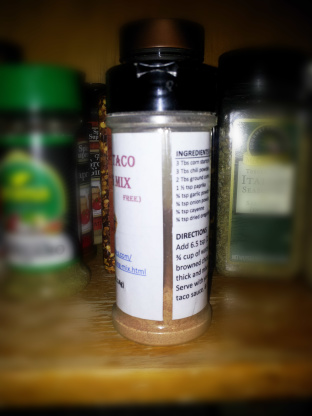 Homemade for half the price of the off-the-shelf stuff. Just made this for dinner, it tasted great albeit a bit spicy (just how I like it). The cornstarch is to make it a thick consistency, you can add more or less depending on how you like it. Feel free to leave the salt out for a sodium free alternative, it'll still taste great.
Mix all ingredients together (and store in an airtight spice container if you make extra. I usually make 3 batches, use 1 and the store the other 2. It should fit nicely in a 3.5 oz jar).
Brown 1 lb ground beef in frying pan.
Pour in seasoning (If you've made more than one batch use 10.5 tsp [3.5 Tbsp]).
Add 3/4 cup of water.
Stir on high flame till thick and evenly mixed (approximately 2 mins).
Serve with you favorite tacos, taco sauce, and diced garden veggies.
ENJOY.