PaulaG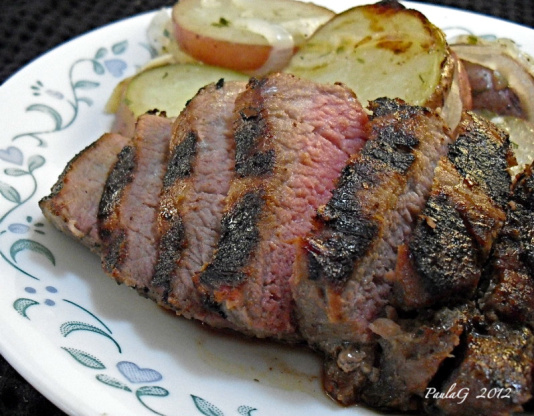 I got this recipe years ago off of The Morning Show. This makes an AWESOME, flavorful steak! I've made this time and time again and everyone raves about the flavor and juiciness of the steak! You won't be disappointed!
Top Review by PaulaG
Very nice marinade. I did use petite cut sirloin steaks in place of the flank steak. The meat was well flavored. I did use some red pepper flakes instead of the jalapeno. The directions for the marinade and cooking of the meat were good. I could see me using this again.
Place onion, garlic, ginger root, jalapeño pepper, soy sauce, and honey in a blender. (if you don't have jalapeño peppers, you can use red pepper flakes) Blend until it looks like a mushy sauce. It will look weird but it's just the marinade. :).
Put sauce in a gallon zipper bag and put flank steak inside. Marinate overnight.
Take steak out of marinade, pat dry with a paper towel and coat with oil. Discard marinade.
Put on grill and don't keep playing with it! Let it sit on each side for 5 minutes.
Take off grill and let it sit for 5 minutes before cutting into it. (This will allow the juices to be reabsorbed into the meat without it running out with the first cut into the steak).
Cut steak at an angle, against the grain and very thin. Serve.