Excellent Potato/Vegetable Side Dish
Nimz1466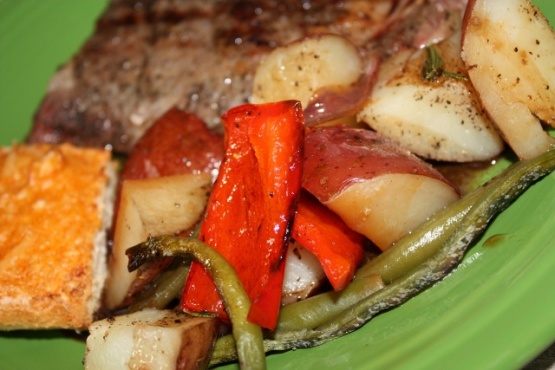 Recipe came from Better Homes and Gardens magazine. It really is excellent. It makes quite a bit but can be easily adjusted. I have made it for large gatherings and small family dinners. It is very good at room temperature so it's great for potlucks or BBQs too. The recipe calls for rosemary but any of your favorite herb(s) would do (fresh is always better but I've often used dried). Hope you like!

We just loved the combinations of vegetables and the Dressing was very good, but I would cut back on the balsamic vinegar as I thought it overpowered the veggies a little. My potatoes turned out perfectly cooked but I did add more chicken broth as it seemed to dry out during the cooking process. I'll make this one again for sure with variations of vegetables. Thanks for posting. Made for Spring 2012 PAC Orphanage.
Cook green beans in boiling water for about 3 minutes.
Drain beans and place in ice water; set aside.
Peel away the dry outer layers of skin from the head of garlic.
Leave skins of cloves intact; do not separate.
Cut off pointed top portion (about 1/4 inch) exposing the tops of individual cloves.
Place the head of garlic, cut side up, in a shallow roasting pan.
Add green beans, potatoes, peppers, and onion.
Sprinkle with salt and pepper.
Drizzle with chicken broth.
Roast vegetables in a 400 degree Fahrenheit oven about 1 hour.
Cool slightly.
Remove roasted garlic; press the paste from individual cloves into a separate bowl.
Add vinegar, olive oil, and rosemary.
Stir to combine.
Transfer vegetables to a serving bowl.
Add vinegar mixture, toss to coat.
Serve warm, chilled, or at room temperature.
**Balsamic vinegar is best.