oriana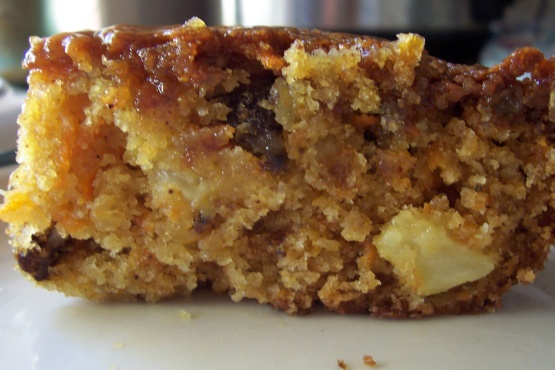 Chock full of flavor, this is the best carrot cake! It tastes even better the next day after the flavors meld. A tad more time consuming than the average carrot cake, but well worth it!

This carrot cake is by far better than any I have ever tasted. I agree with Jeff, it is worth at least 100 stars. The cake is moist and tender and the buttermilk glaze adds another layer of richness. The cream cheese frosting is sweet and sooo creamy. Talk about a sugar high--wowie!! Thanks MizzNezz, you have really outdone yourself.
Combine first 5 ingredients; beat well.
Mix flour, soda, salt and cinnamon; add to creamed mixture; stir well.
Add carrots, walnuts, pineapple and coconut; stir well.
Pour batter into greased and floured 13x9 baking pan.
Bake at 350° for 55 minutes, or until pick comes out clean.
Buttermilk Glaze: Combine first 5 ingredients in large saucepan.
Bring to a boil; cook 4 minutes on medium heat.
Remove from heat; add vanilla.
Pour buttermilk glaze over warm cake; let cake cool.
Cream Cheese Frosting: Mix cream cheese and butter; beat until smooth.
Gradually add sugar, beating until light and fluffy.
Stir in vanilla.
Spread cream cheese frosting on top of cooled cake.